A Doctor in the House
In 1856, Dr. Benjamin Barton bought the old estancia. He paid $500 for it. He also paid Mormon leaders Lyman and Rich $2,000 for the land where Redlands is today.
Dr. Barton and his family moved into the old Mission estancia. He was the doctor for the valley. He also was the druggist, postmaster and school board president.
Dr. Barton built a big brick home behind the estancia. It's still there. The City of Redlands bought the Barton House and plans to turn it into a museum. You can go into the Asistencia, but the Barton House is boarded up. You may have to wait a few years to see inside.
There's another house in our area from the same time. It's the Rains House in Rancho Cucamonga. Visiting the Rains House is on our adventures list for this historic period. It's managed by the San Bernardino County Museum.
Information: www.co.san-bernardino.ca.us/museum/rains.htm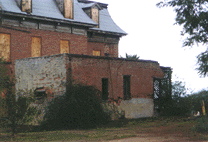 Barton Cookhouse and home today
Barton Barn by the Zanja, about 1880
From the Archives of the A.K. Smiley Library, Redlands, California
Citrus is good for you!
Some of the Mormon settlers stayed in the valley. The Van Leuvens had come across the country in Conestoga wagons, and settled here.
One of the sons, Anson Van Leuven, planted the first orange trees in the valley. The idea caught on. Soon there were thousands for trees. Redlands, Bryn Mawr and Loma Linda because famous for their citrus fruit.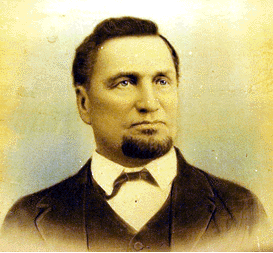 Anson Van Leuven
San Bernardino County Museum
Why was this the "townsite" era?
People were starting to settle on this side of the valley. Most of them were spread out. As more and more people came, some wanted to have closer neighbors. They began to build their houses in little neighborhoods. These were not cities, or even towns.
They were called townsites, because there were a few people living together. They hoped that their little village would grow into a town. Some did. Some didn't. There were several townsites in the Loma Linda area.
Some of the townsites were:
Hahant
Redlands Junction
Idlewild
Bryn Mawr
Mound City
Only Loma Linda survived as a town. Bryn Mawr is a neighborhood, but it has been swallowed up by Loma Linda.
In the next period we will see how people tried to build towns where Loma Linda is today.
Look at this map in the Big Picture to see
where some of the 1888 Townsites were.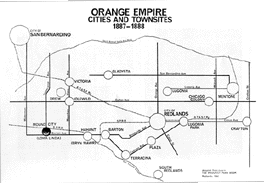 (Use your Back button to come right back here)