As other towns around the valley grew, they began to gobble up land. The people of Loma Linda noticed that San Bernardino, Redlands and Colton were coming closer.
They realized that unless Loma Linda became a real city, it could lose its identity. They organized voters to vote for cityhood.
On September 22, 1970, the majority of voters agreed to become a city. The vote was 1,575 for making it a city, and 175 against.
Loma Linda organized a city council, and elected Douglas Welebir as the first mayor.
Even railroad tracks weren't safe during flooding!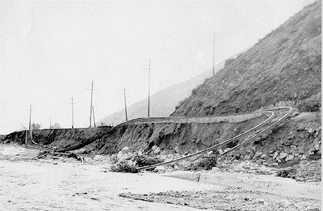 San Bernardino County Museum
Why Become a City?
Better Services: A terrible flood in 1969 covered two-thirds of the land in Loma Linda. People saw they needed better protection from floods and other disasters.
More Control: Loma Linda is a unique city. Most of its people have some connection with Seventh-day Adventist faith. People in town were worried that bars and nightclubs might open in town. They also worried that "outsiders" would decide how fast the city would grow, and take away the Loma Linda Hills to the south.
Better Streets and Bridges: Loma Linda was almost cut off from the rest of the world during the 1969 flood. New bridges and overpasses would keep traffic flowing and let the city grow.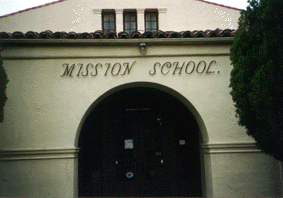 Mission School was built in 1938. It was replaced by a bigger school in 1993. The new school is Bryn Mawr Elementary School, just two blocks from the old Bryn Mawr School. The new school is already crowded and there is talk of re-opening Mission School.